OUR FIRST POET AND THE ARABIC LEXICAL UNITS
Keywords:
Gazi Burhanaddin, Arabic words, eruz, Turkish spirit, unique style, classical literature
Abstract
In the article, the Arabic word units in the works of our poet Gazi Burhaneddin (1344-1398), who created the first Divan in the history of Turkish dialects literature are investigated. It is stated that these dictionary units are widely reflected in the works of Gazi Burhaneddin for the first time in the literature of Turkish dialects. Thus, Gazi Burhanaddin tried to ensure the eruza compatibility of his own language by using these dictionary units. Generally, the interrelationships between eruz and the Azerbaijani language are explored in the article. Gazi Burhaneddin is the first poet to write "Divan" in our mother tongue. In the third volume of the history of literature of Azerbaijan the article of Gazi Burhanaddin (1344-1398) begins with the following sentences: "Azerbaijani literature in the XIII-XIV centuries is entering a new stage of development. The most important event of the period is the emergence of mother tongue poetry. For centuries due to historical-socio-political reasons, Arabic (VII-X centuries) and Persian (XI-XII centuries) were in high positions in the literature of written Azerbaijan, as well as in the literature of some Near and Middle Eastern countries. The well-known literary theorist and critic Hatib Tabrizi wrote his works in Arabic, the world-famous Hagani, Nizami wrote in Persian... Raising the flag of poetry in its own language in the XIV century, Gazi Burhaneddin is one of the poets who created hundreds of works in the Azerbaijani language. It is clear from the sources that Gazi Burhaneddin was a well-known generation of his time, received an excellent education and he lived in Arab countries for a long time. Therefore, he knew Arabic very well. Yet according to literary history, "he... if he's holding a sword in one hand, he held a pen in his other hand, "Tercihit-tozih" (predominance of explanations), "İksirus-seadet fi esraril-ibadet" (The gem of happiness is in the secrets of worship) as. He wrote scientific works in Arabic and he has created precious melodies that touch the hearts…" "Although the sources indicate that the poet has poems in Arabic and Persian, its famous "Divan" is in the Azerbaijani language.
Downloads
Download data is not yet available.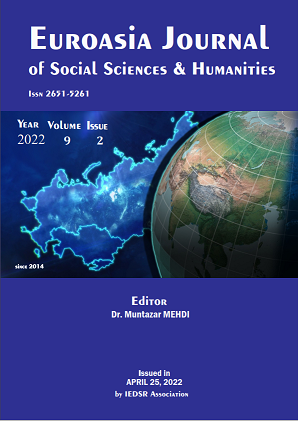 Downloads
How to Cite
SULEYMANOV, S. (2022). OUR FIRST POET AND THE ARABIC LEXICAL UNITS. EUROASIA JOURNAL OF SOCIAL SCIENCES & HUMANITIES, 9(25), 45–53. https://doi.org/10.38064/eurssh.337
License
This work is licensed under a Creative Commons Attribution-NonCommercial 4.0 International License.