INSPIRATIONAL LEADERSHIP AND ATATUR'S LEADERSHIP TRAITS
Keywords:
Inspirational Leadership, Leadership Types, Atatürk's leadership traits
Abstract
There are hundreds of articles, boks and researhes issued about leadership  traits, ability and styles of great leader and the founder  of modern turkish republic, Mustafa Kemal Atatürk. Traits and stythere has been studies about Atatürk's leadership traits and abilities according todays defined leadership styles. But these type articles generally kept the reseraches in dijest.in this study I have largely sstudied  Atatürk's trait according to inspirational leadership style.
İt is said no great man comes any more and one great leader comes in to the worl in every hundred years (era). Atatürk is accepted as the era's great leader. Disciplinized literatüre of leadership discussion today, I have tried to compare Atatürk's leadership traits and abilities from inspirational leadershit style's point of view. I accept that Atatürk's leadership traits and style does not  consist of only one leadersip styles features.  But I wanted just to search his inspirational leadersip traits.
İn tihis study, Leadeship types have been studied shortly. Then  İnspirational leadership has been discussed. Then teorithcal base of the inspired leadership has been analized. And inspirational leadership style and Ataturk's traits brought together to make comparison. Outcomes have been discussed and offers developed. Conclusions are beeing shared with the puclic.
References
https://www.aa.com.tr/tr/analiz/ulus-devletler-ve-teknoloji-sirketleri-arasinda-guc-mucadelesi/2161618
Adair, J. & Allen M. (1999). "Time Management and Personel development", HAWKSMERE Plc.,
AKIN, H.. (2001), Yeni Ekonomi: Strateji, Rekabet ve Teknoloji Yönetimi, Çizgi Kitabevi.
Akyan, E (2004). "Kayseri'de Faaliyet Gösteren Girişimcilerin Liderlik Özellikleri", Erciyes Üniversitesi, Sosyal Bilimler Enstitüsü Dergisi, Sayı:17.
Avolio, B.J., Bass, B.M., & Jung, D.L. (1999). "Re-Examining the Components of Transformational and Transactional Leadership Using the Multifactor Leadership Questionnaire", Journal of Occupational and Organizational Psychology
Baker, J. " Management, Leadership and Skills Unit", Department of Trade and Industry, Bay 349, 151 Buckingham Palace, London SW1W, 9SS.
Hartog D. (2002). LEADERSHİP As A Source of Inspiration, İSBN 90-5892-015-1
Dönmezer, S.(26.04.2022). "Atatürk Liderliğinin Sosyopsikolojik Analizi", www.dergipark.org
Geçikli,F. (2012) "Liderlik: Duygusal Zeka: Mustafa Kemal Atatürk Örneği", Atatürk Üniversitesi İletişim Dergisi, Sayı: 3, Ocak 2012
Harrison, B. (1982), Understanding Authority For Effective Leadership, Harrion House İnc.
Horwitch, M. & Whipple, (2014). Leadership Who İnspires A 21 st Century Approach to Developing Your Talent, Bain & Company.
Kingbord, D. J., Moore D. A. & Varea-Hammond, S.(2006). "What İs Leadership?", Leadership and Professional Devlopment, JWME 33(2). www.researchgate.net/publication/6937144
Finney, L. İnspirational Leadership, Thales Learning and Development, Crawley, West Sussex.
www.thales-ld.com
Mollazadeh, S., Zadeh, A. M. & Yeganegi, K. A review of New Leadership Theories and Its Components, İnternational Journal of Management Sciences and Business Research, Fe-2018 ISSN (2226-8235) Vol-7, İssue 2
Sichone, B. (2004). The Rare Jewels Of Effective Leadership
Sönmez, S. (2006) "Milli Bir Lider Olarak Motivasyon Dehası Atatürk", A.Ü. Türkiyat Araştırmaları Enstitüsü Dergisi, Sayı31,23-72
Wagner, A. J., Hollenbeck, A. J (2010). Organisational Behavior, Routledge.
Wilson, S. M. (2004). Effective Developmental Leadership: A Study Of The Traits and Behaviours Of A Leader Who Develops Both People and The Organisation, B.S. Nivholls State University.
https://tr.euronews.com/2019/12/11/ataturk-un-etkilenip-okul-mufredat-na-koydugu-finlandiya-n-n-basar-hikayesi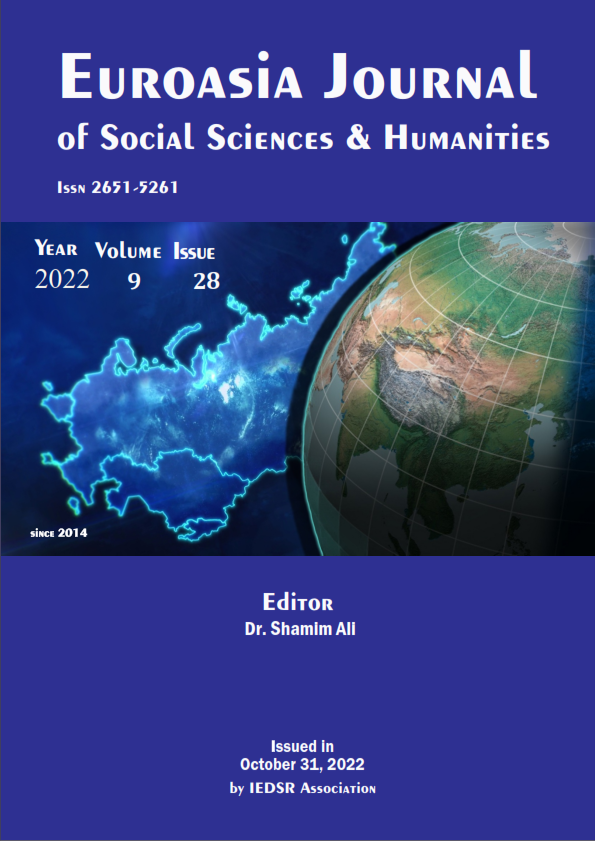 Downloads
How to Cite
ERSOY, H. (2022). INSPIRATIONAL LEADERSHIP AND ATATUR'S LEADERSHIP TRAITS. EUROASIA JOURNAL OF SOCIAL SCIENCES & HUMANITIES, 9(28), 25–37. https://doi.org/10.5281/zenodo.7274754
License
Copyright (c) 2022 EUROASIA JOURNAL OF SOCIAL SCIENCES & HUMANITIES
This work is licensed under a Creative Commons Attribution-NonCommercial 4.0 International License.