ANALYSIS OF "UZAK" MOVIE IN THE CONTEXT OF SPACE AND IDENTITY INTERACTION
Keywords:
Space, Identity, Space and Identity Interaction, Space in Cinema, Film Space
Abstract
While people continue their individual or social lives, they interact and interact with the place they live in. This interaction at the physical level, which started at the beginning only in order to realize basic vital needs and actions, starts to gain in the abstract sense in the mental dimension over time. With its semantic qualities, space also contains various messages about who a person is, where he is from, his lifestyle, habits, the cultural characteristics of the society he lives in, in short, his identity. The space can create partnerships or distinctions between different identities, as well as enable identity features to appear and be visible. This study aims to explain the process of mutual communication and interaction between human and space in the context of the concept of identity within the visual narrative universe of cinema. The film contains information about the identity of the place, the story the director wants to tell, the characters and, most importantly, the message he wants to give. From this point of view, firstly, after the theoretical infrastructure related to identity, space, place identity and associated identity, self-determination and privacy are created, a film analysis is made in the context of space and identity through the "Uzak" movie selected as a sample. Directed by Nuri Bilge Ceylan, the 2002 film "Uzak" is one of the films that the director consciously uses the space in the creation of cinematic meaning, as in all his films. This feature was effective in selecting the movie as a sample. It has been found appropriate to use the frame-by-frame analysis method for analysis. Since the focus of the study is the interaction of space and identity, the film frames to be examined are selected according to the types, properties and semantic relationships of the space and space fittings used. The selected film frames are handled under two main titles: home space and urban space. The messages conveyed by spaces and characters according to their positioning in the visual composition in the film frames and the relationship of the characters with the space are analyzed in the context of the concept of identity. As a result of the analysis made on cinematographic space constructions, it was concluded that, together with the network of relations within it, space has an active role in forming and transforming our identity, and at the same time, space is a communication tool in expressing ourselves to others.
Downloads
Download data is not yet available.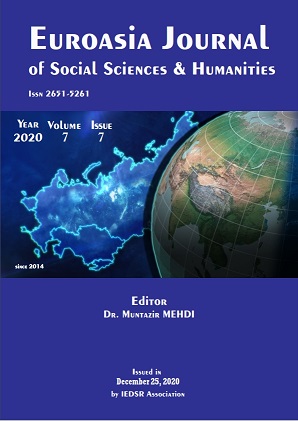 Downloads
How to Cite
ÖLÇER KANBUR , E., & ERTEN BİLGİÇ, D. (2020). ANALYSIS OF "UZAK" MOVIE IN THE CONTEXT OF SPACE AND IDENTITY INTERACTION. EUROASIA JOURNAL OF SOCIAL SCIENCES & HUMANITIES, 7(17), 18–32. https://doi.org/10.38064/eurssh.116
License
This work is licensed under a Creative Commons Attribution-NonCommercial 4.0 International License.