AZERBAYCAN'DA AYNI SEKTÖRDE FAALİYET GÖSTEREN YABANCI FİRMALARIN İŞ İLANLARINDAKİ BENZERLİKLER VE FARKLILIKLAR
Abstract
Birçok şirket yöneticisi, başarılı olmak için başvuranların en iyi arama sonuçlarında bir
boşluğun tanıtımı için ödeme yapmanın yeterli olduğunu düşünüyor. Tanıtımı, ne kadar çok kişi
görürse o kadar çok cevap gelir. Ancak,tanıtım çalışan insanların ilgisini çekmezse, tek bir izlenim
yardımcı olmaz. İdeal olarak, yabancı şirketler rakiplerinden daha iyi olmaya odaklanmalıdır. Diğer
bir deyişle, boşluk piyasa gerçekleriyle uyumlu veya onlardan biraz daha iyi olmalıdır [2].
Açık pozisyonun tanımı bazı şirketlerde basit ve spesifiktir ve diğerlerinde aday için aranan
şartlar aşırıdır. Başvuru sahipleri, metinden kendilerine ne teklif edildiğini ve onlardan ne
beklendiğini açıkça anlamalıdır [8].
Downloads
Download data is not yet available.
References
Acarlar, G. & R. Bilgic, (2013), "Factors influencing applicant willingness to apply for the advertised job opening: the mediational role of credibility, satisfaction and attraction", The International Journal of Human Resource Management, 24(1): 50–77.
Albinger, H.S., & Freeman, S.J. (2000), "Corporate social performance and attractiveness as an employer to different job seeking populations", Journal of Business Ethics, 28(3): 243-253.
Allen, D., Van Scotter, J., & Otondo, R. (2004), "Recruitment communication media: Impact on prehire outcomes" Personnel Psychology, 57: 143-171.
Barber, A.E. & Roehling, M.V., (1993), "Job Postings and the Decision to Interview: A Verbal Protocol Analysis" Journal of Applied Psychology, 78: 845–856.
Baş, T., Aydınlık, A.Ü., Erenel, F., (2011), "Üniversite Öğrencilerinin İşveren Seçim Kriterlerinin Belirlenmesine Yönelik Keşfedici Bir Araştırma", Ege Akademik Bakış, 11(3): 439-452.
Belt, A. & Paolillo, J. (1982), "The influence of corporate image and specificity of candidate qualifications on response to recruitment advertisement", Journal of Management, 8: 105- 112.
Blackman, A. (2006), "Graduating Students' Responses to Recruitment Advertisements" Journal of Business Communication, 43(4): 367–388.
Breaugh, J. A. (2005), "Employee recruitment: Current knowledge and important areas for future research" Human Resource Management Review, 18: 103-118.
Breaugh, J. A., ve Starke, M. (2000), "Research on employee recruitment: So many studies, so many remaining questions, Journal of Management, 26(3): 405-430.
Breaugh, J. (2009) Realistic Job Previews, in Handbook of Improving Performance in the Workplace: Volumes 1-3 (eds K. H. Silber, W. R. Foshay, R. Watkins, D. Leigh, J. L. Moseley and J. C. Dessinger), John Wiley & Sons, Inc., Hoboken, NJ, USA.
Brown, P.S., Stayman, M.D., (1992), "Antecedents and Consequences of Attitude toward the Ad: A Meta-Analysis," Journal of Consumer Research, 19(1): 34-51.
Buda, R. (2003), "The Interactive Effect of Message Framing, Presentation Order, and Source Credibility on Recruitment Practices" International Journal of Management, 20(2): 156- 163.
Carless, S.A. Imber,A. (2007), "The Influence of Perceived Interviewer and Job and Organizational Characteristics on Applicant Attraction and Job Choice Intentions: The role of applicant anxiety", International Journal of Selection and Assessment, 15(4): 359–371.
Erdem, B., T., Gezen, (2014), "Turizm İşletmelerine Yönelik İş İlanlarının İçerik Analizi Yöntemiyle İncelenmesi", Uluslararası Yönetim İktisat ve İşletme Dergisi, 10(21): 19-42.
Evers, A., Anderson, N., & Smit-voskuijl, O. (2005). Handbook of personnel Selection. Boston, MA: Blackwell Publish
Mackenzie, S.B., Lutz, J.R. & Belch, E.G., (1986) "The Role of Attitude Toward the Ad as a Mediator of Advertising Effectiveness: A Test of Competing Explanations," Journal of Marketing Research, 23(2): 130-143.
https://mcdonalds.az/apply-now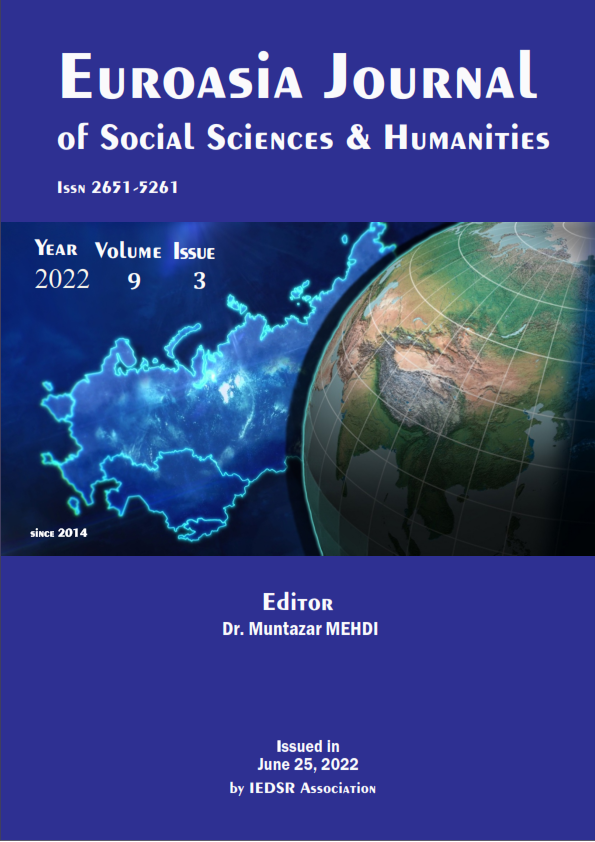 Downloads
How to Cite
Zeynalli , G. . (2022). AZERBAYCAN'DA AYNI SEKTÖRDE FAALİYET GÖSTEREN YABANCI FİRMALARIN İŞ İLANLARINDAKİ BENZERLİKLER VE FARKLILIKLAR . EUROASIA JOURNAL OF SOCIAL SCIENCES & HUMANITIES, 9(26), 1–8. https://doi.org/10.5281/zenodo.6788383
License
Copyright (c) 2022 EUROASIA JOURNAL OF SOCIAL SCIENCES & HUMANITIES
This work is licensed under a Creative Commons Attribution-NonCommercial 4.0 International License.