EVALUATION OF SIIRT LOCAL EATING AND DRINKING CULTURE IN TERMS OF THE POTENTIAL FOR ALTERNATIVE TOURISM
Keywords:
Siirt, Siirt foodways culture, Gastronomy
Abstract
The changing socio-economic conditions in the world have also changed the demands and expectations from the tourism sector. For this reason, alternative tourism activities, which have been developing rapidly since 1980, have emerged. These activities were primarily used in areas where tourism is well developed, to spread tourism throughout the year by using the existing tourism infrastructure. Alternative tourism activities have turned into great opportunities to bring tourism to areas that have not met tourism before. Turkey has numerous geographical locations, cultural and social landscapes that can be evaluated in terms of alternative tourism resources. The unique eating and drinking culture of almost every city in Turkey has also revealed great potential for "gastronomy tourism", which is one of the alternative tourism activities. However, it cannot be said that this potential has been sufficiently evaluated yet. The research area is located in the Dicle Section of the Southeastern Anatolia Region. In Siirt, which has hosted many cultures throughout history, the culture of foodways is quite diverse. The natural geographical features and human texture of the settlement are effective in the emergence of this culture. Turkish, Arab, Kurdish and Armenian cultures are the stakeholders that shape the traditional foodways culture of Siirt. The existence of materials and traditional dishes such as "Büryan", "Severkitel", "Kitel" proves the cultural mosaic. There are some ritualized behaviors in the preparation of traditional dishes in Siirt. Especially in the production of labor-intensive local dishes, there are "imece" behaviors that are on the verge of extinction in most of Anatolia. The foodways culture of the region has been effective in the emergence of the local architecture. Especially in "Cas houses", there are functional spaces designed for foodways culture. In the research area, the development of the foodways culture is also observed in the commercial life of the city. Especially the excess of places that are expressed as "buryanist" can be shown as proof of this. There has been an increase in the number of establishments that make other local dishes in recent years. This situation will become more widespread if Siirt is included in the itineraries of gastronomic tours to the Southeastern Anatolia Region.
Downloads
Download data is not yet available.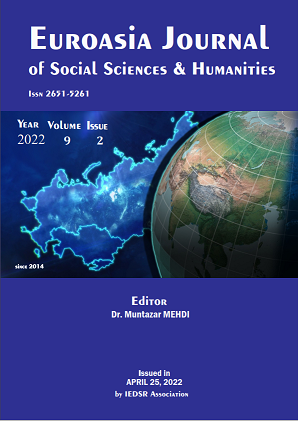 Downloads
How to Cite
HADİMLİ , H., SARI, C., & YÜKSEL, M. (2022). EVALUATION OF SIIRT LOCAL EATING AND DRINKING CULTURE IN TERMS OF THE POTENTIAL FOR ALTERNATIVE TOURISM. EUROASIA JOURNAL OF SOCIAL SCIENCES & HUMANITIES, 9(25), 112–133. https://doi.org/10.38064/eurssh.359
License
This work is licensed under a Creative Commons Attribution-NonCommercial 4.0 International License.