REASONS OF MÜŞKİLÜ'L-HADITH ACCORDING TO İZZ B. ABDİSSELÂM
Keywords:
Hadith, İzz b. Abdisselâm, Comment, Problem
Abstract
One of the leading Islamic scholar is İzz b. Abdüsselam who lived in H. 7. century. İzz b. Abdisselam lived in a period when Islamic geography was occupied by the Mongols thhe east and the Crusaders from west. He stood with the people oppressed under war and political interests, and thus his name was recorded in history under the nicknames of Sultânü'l-Ulema (Shah of the scholars) Bai'ul-Mulûk (who sold governors). Izz b. Abdisselâm compile almost in all areas of Islamic sciences (Kalâm, Moral, Sufism, Siyer, Tafsir, Usul-i Fiqh, Fiqh, Hadith Rulings). Besides he did not remain indifferent to the objections against hadith texts and answered the questions coming in this direction. However, he duplicated the criteria for the supply of Hadith texts. The subject of this article is the reasons why Hadith text is problematic according to Izz b Abdisselam.
Downloads
Download data is not yet available.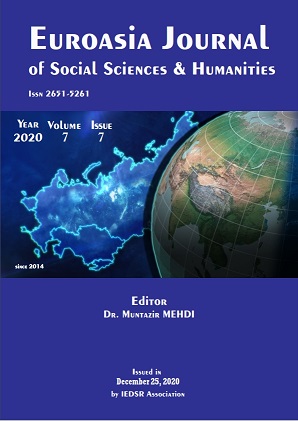 Downloads
How to Cite
KARASU, T. (2020). REASONS OF MÜŞKİLÜ'L-HADITH ACCORDING TO İZZ B. ABDİSSELÂM. EUROASIA JOURNAL OF SOCIAL SCIENCES & HUMANITIES, 7(17), 92–100. https://doi.org/10.38064/eurssh.171
License
This work is licensed under a Creative Commons Attribution-NonCommercial 4.0 International License.