SOCIETAL SECURITY AND SYRIAN REFUGEES IN TURKEY
Keywords:
Syrian Crisis, Copenhagen School, Security, Syrian Refugees, Societal Security
Abstract
During the period after the onset of the Syrian crisis, many problematic fields have emerged. Security is one of the problematic areas created by the Syrian crisis. The concept of security was changed after the Cold War and it is started to be examined in a multidimensional way by leaving the monopoly of military security. In this context, the fact that the Copenhagen School does not only consider security as military security and examines it by dividing it into different sectors is important in terms of analyzing the crises experienced in recent years and the Syrian crisis. Within this framework, considering from the social security sector of the Copenhagen School, the effects of the Syrian crisis brought regional problems with it. After the onset of the Syrian crisis, Syrian citizens had to take refuge to neighboring countries. Turkey has the leading of these countries. The number of Syrians who took refuge in Turkey was well above Turkey's expectations. Despite the nine years since the onset of the Syrian crisis, no solution has been achieved. In case the result of the deadlock, Syrian refugees in Turkey has created a societal security perception upon Turkish society. In this context, the purpose of the study, on the basis of societal security is one of the security sector of Copenhagen School, to examine the societal security perceptions that they have created of Syrian refugees in Turkey and to offer solutions as a result of the findings.
Downloads
Download data is not yet available.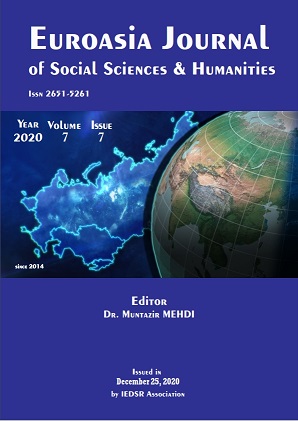 Downloads
How to Cite
EBREM, İlker S. (2020). SOCIETAL SECURITY AND SYRIAN REFUGEES IN TURKEY. EUROASIA JOURNAL OF SOCIAL SCIENCES & HUMANITIES, 7(17), 78–91. https://doi.org/10.38064/eurssh.141
License
This work is licensed under a Creative Commons Attribution-NonCommercial 4.0 International License.