A METAPHOR RESEARCH: ADULTS' PERCEPTİONS RELATED TO COMPASSİON CONCEPT
Keywords:
Adult, compassion, metaphor, perception
Abstract
Compassion concept can be defined as cognitive and emotional awareness of one's own suffering or someone else's suffering and accepting that pain is a common experience of humanity and having a desire to act to alleviate pain. This research aims to examine the perceptions of the adults about compassion concept. The research was designed in a qualitative approach and carried out with the metaphor method. Participants of the researh were 137 adults. The research data were collected online. The obtained data were analyzed by content analysis method. As a result of the analysis, 124 metaphors were reached and it was determined that these metaphors were grouped under six themes. The first theme showed that compassion is perceived as a feeling of love and kindliness. The second theme revealed that compassion is thought of as a sense of pity and forgiveness. The third theme has determined that compassion is addressed in the form of providing support and being useful to someone else. The fourth theme showed that compassion is understood as the source of life and a spiritual feature. The fifth theme reveals that compassion is perceived as a unrequited good deed. The sixth theme highlighted the comforting and therapeutic aspects of compassion. The findings of the researh were discussed in the light of the literature and various suggestions were presented.
Downloads
Download data is not yet available.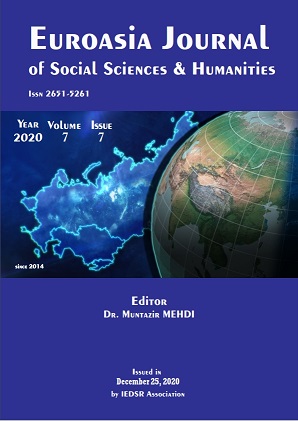 Downloads
How to Cite
NAS, E. (2020). A METAPHOR RESEARCH: ADULTS' PERCEPTİONS RELATED TO COMPASSİON CONCEPT. EUROASIA JOURNAL OF SOCIAL SCIENCES & HUMANITIES, 7(17), 63–77. https://doi.org/10.38064/eurssh.139
License
This work is licensed under a Creative Commons Attribution-NonCommercial 4.0 International License.