AFTER THE STATE ARTIST RUŞEN GÜNEŞ; ART, VIEW OF LIFE, PERSONALITY AND WORKS
Keywords:
Rusen Gunes, Viola, State Artist, London Philharmonic Orchestra, BBC Symphony Orchestra
Abstract
Devlet Sanatçısı Viyola virtüözü Ruşen Güneş 30.05.2020 tarihinde 80 yaşında Londra'da hayatını kaybetti. Güneş; çalıştığı dünya çapında orkestralarla, verdiği solo ve oda müziği konserleriyle, Türk bestecilerini viyola konusunda yazmağa özendirmekle, Türk müzisyenlere açtığı yollar ile tanınmaktadır. Bu çalışmada; oldukça bilinen biyografisinin yanında çok bilinmeyen edebiyat yönü, kişiliği, Türkiye sevdası, öğrenci yetiştirme aşkıyla dolu Güneş anlatılmaya çalışılmaktadır. Güneş ömrünün son sekiz yılını Yaşar Üniversitesinde öğrenci yetiştirmeye adamıştır. "Hayatımın en mutlu anları" olarak belirttiği bu süreçte yazar da onu yakından tanıma fırsatı bulmuştur. Çalışmada literatür tarama tekniğinden ve kendisiyle yapılan üç saati aşkın röportaj kayıtlarından yararlanılmıştır. Bu süreçte biyografisinde bilinenlerden farklı bir Güneş ortaya çıkmıştır. Çalışmada yaygın kanının aksine Güneş'in insan ilişkilerindeki hassasiyeti, nüktedanlığı, edebiyat ve insan aşkı, sanatçının var oluş amacındaki tezatlıkları Miguel de Cervantes Saavedra'nın Don Kişot ve Sanço Panza karakterleri metaforuyla vurgulanmıştır.
Downloads
Download data is not yet available.
References
State artist and viola virtuoso Ruşen Güneş died on 30.05.2020 in London at the age of 80.He is not only known with his worldwide performances with orchestras, solo and chamber music concerts, but also with his encouragement to Turkish composers to write about viola, and the path he has provided to Turkish musicians. Rather than his well-known biography,in this study aims to explain unknown aspects of the artist such as his interest in literature, personality and enthusiasm to train young students from his hometown. He devoted last eight years of his life to educate students at Yaşar University where he stated as "the happiest moments of my life". On those years, the writer also had the opportunity to get to know him closely and had a chance to explore the artist different from what is known in his biography. In the study, Güneş's sensitivity in human relations, sense of humor, his poems, love for humanity, and the artist's contrasting ideas of his existence are emphasized by the metaphor of the characters of Miguel de Cervantes Saavedra, Don Quixote and Sanço Panza.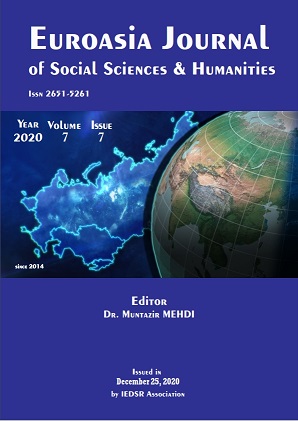 Downloads
How to Cite
TERCİ, A. K. (2020). AFTER THE STATE ARTIST RUŞEN GÜNEŞ; ART, VIEW OF LIFE, PERSONALITY AND WORKS . EUROASIA JOURNAL OF SOCIAL SCIENCES & HUMANITIES, 7(17), 33–39. https://doi.org/10.38064/eurssh.120
License
This work is licensed under a Creative Commons Attribution-NonCommercial 4.0 International License.