Reviving the Actor Through Public Art: Examination of Suzanne Lacy's Work from Richard Sennett's Approach
Keywords:
Public Art, New Genre Public Art, Social Turn, Richard Sennett, Suzanne Lacy
Abstract
The transformation of the public sphere with the development of the industrial society has brought about the transformation of the individuals who shape or shaped by that space. The public sphere, which started to give birth to "stillbirth" with the 19th century, began to be seen as the center of alienation as the spaces belonging to people's private lives were perceived as spaces of freedom. Today, these areas, which are almost exclusively the center of mobility and commercial exchange, are being tried to be re-evaluated with an artistic sensitivity. While Habermas highlights the political functions of the public sphere, Sennett mentions that play and cooperation, which are innate human needs, can also be provided in the public sphere. It is noteworthy that the art movements that started with the Happening art movement and continued with New Genre Public Art from the 1960s onwards tried to revive the public space as an area of ​​play, cooperation and interaction.Moreover, the main effort of these works, especially the pioneers like Suzanne Lacy, is to make those crowds the center of interaction, as well as the need to create an aesthetic form from crowds in the public space. In this new genre of public art, the work of art is the man himself in the public sphere. While doing this, "dead public spaces" are preferred instead of traditional spaces such as galleries and museums where art is performed. In this way, it is tried to transform the masses, who do not know what it means to be a performer, into actors, just like in a real example of public life, with the fictions created specific to that moment. It can be said that foreign masses are involved in a game through art, and as a result, cooperation and solidarity among foreigners are tried to be strengthened.
Downloads
Download data is not yet available.
References
Bishop, C. (2006). The Social Turn: Collaboration and Its Discontents. ARTFORUM.
Bourriaud, N. (2018). İlişkisel Estetik. İstanbul: Bağlam Yayıncılık.
Grubner, B. (2017). Narcissism in cultural theory: Perspectives on Christopher Lasch, Richard Sennett, and Robert Pfaller. Frontiers of Narrative Studies, 50-70.
Kuspit, D. (2006). Sanatın Sonu. İstanbul: Metis Yayınları.
Lacy, S. (tarih yok). https://www.suzannelacy.com/ adresinden alındı
Lacy, S. (2010). Leaving Art: Writings on Performance, Politics and Publics, 1974-2007. Londra: Duke University Press.
Moira Roth, S. L. (2001). Making & Performing "Code 33": A Public Art Project with Suzanne Lacy, Julio Morales, Unique Holland. PAJ: A Journal of Performance and Art, 47-62.
Rothenberg, D. (1988, Spring Vol:32). Social Art/Social Action. The MIT Press, s. 61-70.
Sennett, R. (2019). Kamusal İnsanın Çöküşü. İstanbul: Ayrıntı Yayınları.
Sennett, R. (2020). Beraber. İstanbul: Ayrıntı Yayınları.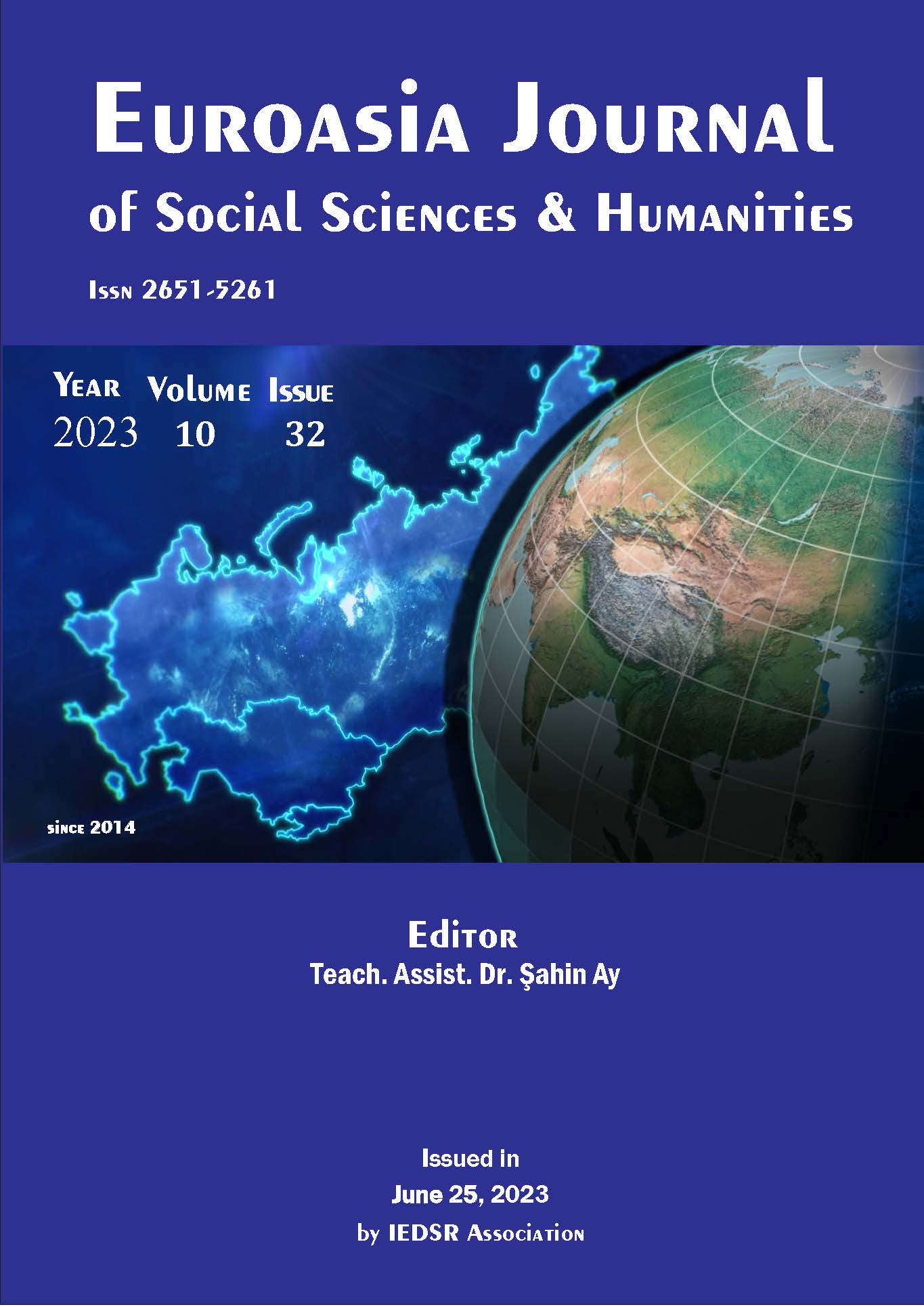 Downloads
How to Cite
Kurt Yavuz, B., & Yılmaz, B. (2023). Reviving the Actor Through Public Art: Examination of Suzanne Lacy's Work from Richard Sennett's Approach. EUROASIA JOURNAL OF SOCIAL SCIENCES & HUMANITIES, 10(32), 141–158. https://doi.org/10.5281/zenodo.8078864
License
Copyright (c) 2023 EUROASIA JOURNAL OF SOCIAL SCIENCES & HUMANITIES
This work is licensed under a Creative Commons Attribution-NonCommercial 4.0 International License.