Azerbaycan Cumhuriyeti Hükumeti Enerji İhracatı Çeşitlendirme Politikası
Keywords:
SOCAR, TANAP, TAP, NEFT
Abstract
      The political processes that began with the collapse of the USSR in the early 80s of the 20th century, the aggression of Armenia's territorial claims, the strengthening of Armenian separatism in Nagorno-Karabakh, dealt heavy blows to the country's economy and cultural life. State of Azerbaijan. Production is falling rapidly and the economic recession has depened. The situation in the petroleum industry, which is the locomotive branch of the republic's industry was dire. The site was working at a loss. Oil production stopped in more than four thousand wells. More than 80% of gamma machines were not working. Only 11 million tons of oil were produced in 1992. In order to start the operation of new offshore oil fields, significant investments were needed, which the republic could not afford.       The national leader of the people of Azerbaijan, Haydar Aliyev, from the first day attached great importance to the diversified and multi-variable energy corridors and routes for the export of Hazar Sea hydrocarbon products to the world markets. In addition to developing independent export routes for oil and gas products to the markets of Turkey and Europe, Azerbaijan is also engaged in activities aimed at gaining a place in the domestic markets of countries that shared the geopolitical space in the past. Within the framework of this activity, one of the main directions of the transnational energy policy to be implemented is to closely participate in the provision of energy reserves of the Black Sea basin and other countries of the post-Soviet area, including neighboring Georgia.The Azerbaijani government emphasized regional security issues of export corridors and pipelines as the main factor in terms of energy security. Therefore, the agreement of the multinational companies of most countries of the world and the region is based on the Baku-Tbilisi-Ceyhan, Baku-Supsa oil and Baku-Tbilisi-Erzurum gas options in the western direction. We are talking about security. Azerbaijan is a country that ensures energy security for itself and its neighbors.
Downloads
Download data is not yet available.
References
Azerbaycanın XX yüzyıl tarihi. Eğitim. B., 2009. s. 502
Gafarov T. Azerbaycan Cumhuriyeti 1991-2001. Bakü, 2001, s. 197-198
Gafarov T. Azerbaycan Cumhuriyeti 1991-2001. Bakü, 2001, s. 244.
Alipanah Bayramov İlk yağ Eylülde üretilecek./Xalq gazetesi No. 179
( 22575 ) 14 Ağustos 1997. S.5
İttifak Mirzazade. Rusya, Hazar Denizinin Türkmen kıyılarını da kıskanıyor / 268(22664) sayılı Halk gazetesi 25 Kasım 1997. s.2
Azerbaycan Cumhuriyeti Cumhurbaşkanı Haydar Aliyevin dünya ülkelerinin devlet ve hükümet başkanlarının, uluslararası kuruluşların başkanlarının, önde gelen siyasi şahsiyetlerin, Azerbaycandan ilk petrolün çıkarılması vesilesiyle tebriklerine cevap mektupları. Hazar Denizinin Azerbaycan sektöründeki yabancı şirketlerle ortaklaşa geliştirilen Çırak" petrol sahası. // Halk gazetesi 269 (22665 ) 26 Kasım 1997. S.1.
Mirbagir Yakubzadeh Batı Petrol Boru Hattı başladı. // Halk gazetesi No. 334
(23034). 11 Aralık 1998 s. 4
AzerTaç Şirketleri Bakü-Tiflis-Ceyhan projesinin arkasındaki siyasi gerçekleri duymaya ve anlamaya başladı bile. //Halk gazetesi No. 339(23039) 17 Aralık 1998 s.1
Hasanov A.M. Azerbaycan Jeopolitiği. Ders Kitabı B., "Zardabi LTD" MMC 2015, s.652
Bakanlar VI toplantısı, Güney Gaz Koridoru Danışma Konseyi çerçevesinde Bakü'de yapıldı. Halk gazetesi 11.02.2020, Sayı 46 (29311) s.2
Avrupa Komisyonu Başkanının Bildirisi Ursula Von der Lydje Azerbaycan gazetesi #149(9028) 19 Temmuz 2022 s.3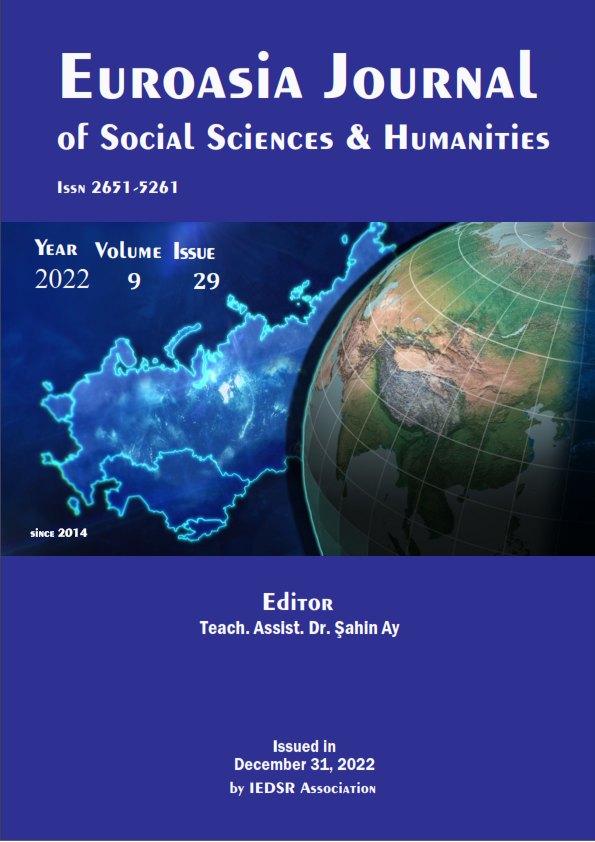 Downloads
How to Cite
XALIQOVA, G. K. qızı. (2022). Azerbaycan Cumhuriyeti Hükumeti Enerji İhracatı Çeşitlendirme Politikası. EUROASIA JOURNAL OF SOCIAL SCIENCES & HUMANITIES, 9(29), 32–36. https://doi.org/10.5281/zenodo.7497158
License
Copyright (c) 2022 EUROASIA JOURNAL OF SOCIAL SCIENCES & HUMANITIES
This work is licensed under a Creative Commons Attribution-NonCommercial 4.0 International License.