EFFECTS OF ORCHESTRA COURSE ON INSTRUMENT EDUCATION OF STUDENTS
Keywords:
Music education, orchestra education, instrument education
Abstract
It is aimed with this study to determine the contribution of the orchestra course taken by students in the 3rd and 4th grades in their undergraduate music education to the individual instrument education. The study group consisted of 27 students studying at Harran University, Faculty of Fine Arts, Department of Music Education in the 2021-2022 academic year. In this study utilizing a case study design, one of the qualitative research methods, semi-structured interview form as one of the data collection methods was applied and the obtained data were analyzed by the descriptive analysis method. In the light of the data obtained in the study, the theoretical contributions of the orchestra course to the technical dimension of the individual instrument course of the students were mostly in the subjects of bow techniques, nuance terms, signs, and symbols, position, and periodic features; also, there were practical contributions on the subjects of bow techniques, nuances, and position. It was also understood, in addition to the theoretical and practical contributions to the technical dimension of the individual instrument, to contribute to the subjects such as the ability to perform together, decipher, and play at the right tempo. It was also observed, concerning the musicality of the students, that it mostly affected playing with feelings by paying attention to the nuances. It was observed that the instrument-related motivation of the students increased since the students had fun by playing together in the orchestra course and their experience of their ability to play the instruments. It has been concluded that the increase in the student motivation relating to their instruments increases the time and frequency of practicing with the instruments, and this eventually contributes to the increase of the students' individual instrument success levels.
Downloads
Download data is not yet available.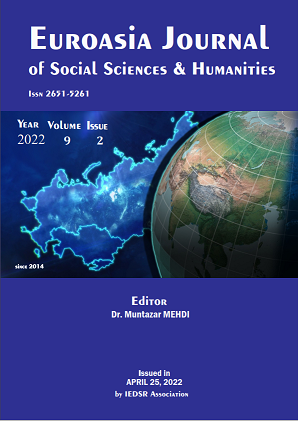 Downloads
How to Cite
TOPALOĞLU , T. (2022). EFFECTS OF ORCHESTRA COURSE ON INSTRUMENT EDUCATION OF STUDENTS . EUROASIA JOURNAL OF SOCIAL SCIENCES & HUMANITIES, 9(25), 82–98. https://doi.org/10.38064/eurssh.345
License
This work is licensed under a Creative Commons Attribution-NonCommercial 4.0 International License.