SOCIAL ENTREPRENEURSHIP IN CHILDREN AND YOUNG PEOPLE
Keywords:
Social Entrepreneurship, Social Entrepreneur, Social Enterprise, inovation, entrepreneur childs
Abstract
systematically and consciously. Entrepreneurs take risks to make a profit. A social entrepreneur is a social leader who develops and implements practical solutions to social problems by taking advantage of innovations, original approaches and opportunities. The primary purpose of the social entrepreneur is not to make money. Since the profit made in social enterprises is used above all to achieve the main social goals, the profit generated is a means to the realization of the social mission, not an end. Nowadays, social entrepreneurship will develop with the increase in the number of sensitive young people who want to solve a social problem in the new generation. For the development of social entrepreneurship, children can be taught from a very young age how to develop an idea and solve a problem that needs to be solved. Although there are many examples of entrepreneurial children, not every entrepreneur child has to be a child entrepreneur. It is much more important to develop the necessary minds and skills of children. Care should be taken to ensure that children are happy first, and that they are raised as good people who know the meaning of adding value. While talking about the "entrepreneurial child" issue, the focus should not be on money and it should be discussed what can be done to increase the number of happy children who are sensitive to social issues. The aim of the study is to investigate social entrepreneurship and what can be done for the development of social entrepreneurship in children and young people. Differences related concept of social entrepreneurship, studies on social entrepreneurship in Turkey, applications and the development of social entrepreneurship personality, the factors in the development of entrepreneur children has been evaluated using literature. This study investigates the socially entrepreneurial behavior of children and young people.
Downloads
Download data is not yet available.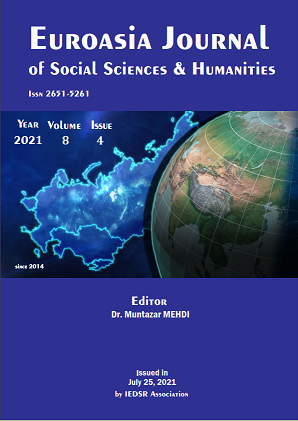 Downloads
How to Cite
ULAŞ, D. (2021). SOCIAL ENTREPRENEURSHIP IN CHILDREN AND YOUNG PEOPLE. EUROASIA JOURNAL OF SOCIAL SCIENCES & HUMANITIES, 8(21), 22–35. https://doi.org/10.38064/eurssh.218
License
This work is licensed under a Creative Commons Attribution-NonCommercial 4.0 International License.